The Avid Advocates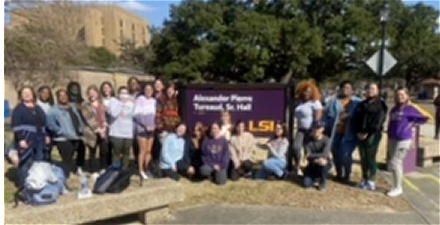 As future social workers, we are tasked with advocating for services that assist those in need. In our Crisis Intervention course at LSU, we have learned what someone may experience when faced with a crisis and the resources they will need to best support them throughout these difficult situations.

In our community, Baton Rouge Crisis Intervention Center (BRCIC) has become a steadfast resource for those who have experienced traumatic loss. Our class had the opportunity to visit BRCIC, and witnessed the Survivor of Suicide Support Group that provides weekly support to those who have lost someone to suicide. The group facilitators revealed how this group is a lifeline for these survivors and creates a refuge for them to express their loss.

BRCIC is a community resource that must be preserved. For this reason, we are raising money for the 12th Annual Circle of Support Walk scheduled for April 9th, 2022. These funds will ensure that BRCIC's bereavement services provided to those who have suffered traumatic loss will continue. We thank you so much for your support!
— LSU School of Social Work Graduate Students

Donation Form


Please fill out the form below to provide us with the information we need to acknowledge your gift; then click on the "Submit & Proceed to Payment Page" button to complete your donation at our secure Payment Page. You will receive a receipt confirming your payment at the email address you provide.

Please note: The BRCIC website is not intended to provide help in a crisis. If you are feeling suicidal or need help for yourself or someone you know, please consult IASP's Suicide Prevention Resources to find a crisis center anywhere in the world. In the US, call toll-free 1-800-273-TALK (8255) for a free suicide prevention service or visit SuicidePreventionLifeline.org.